Posted by Sunny Decals on on 30th Dec 2015
2015 was a big year for us! It's a new year and that means time for renewal, resetting and redecorating! Here is our Top Ten for most popular decals!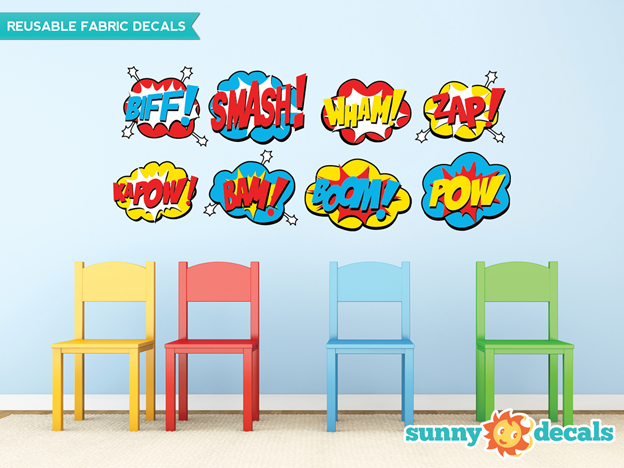 How big of a comic fan are you? There are no limits to be a fan of comics. Your age, gender, position, education level--nothing matters, comics are addictive. Before there were televisions and cinema, comics was one of the major entertainers around the world. Still, they are bought, read, and circulated. This is Sunny Decal's approach to revive the greatest comic strips of all time.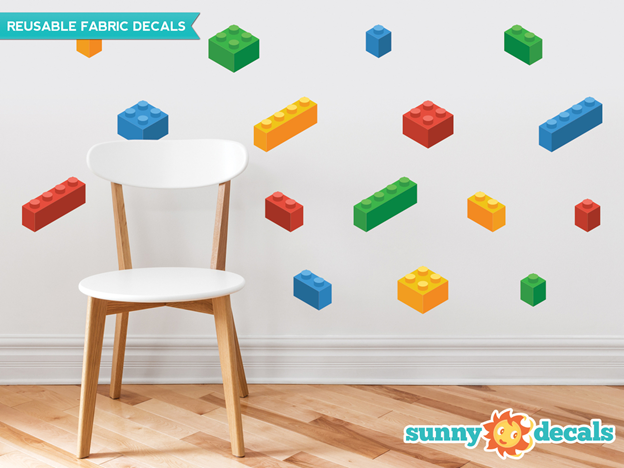 It all started with kids started to snap 2 plastic block bricks together. These awesome decals come in a set of 16 blocks in 4 different colors (4 red, 4 yellow, 4 green, and 4 blue)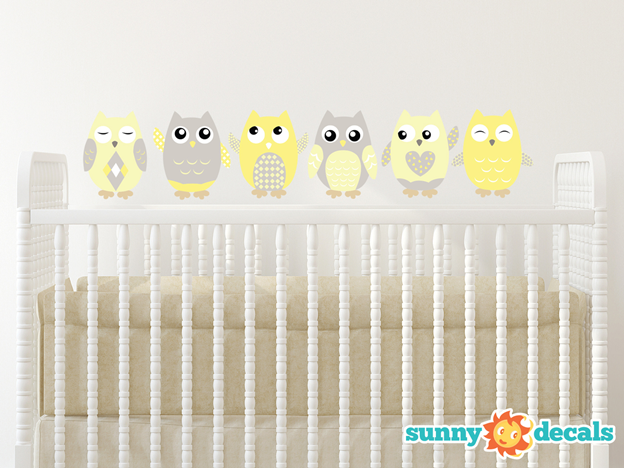 The soft design depicts six different lovely owls. These beautiful creatures are painted in four different color options. Your kid will find it fascinating to stare back at the group of colorful birds staring with their large lively eyes. Do not be surprised if you find your little ones sharing their experiences with these curious looking birds. These owl wall decals will sprinkle a perfect gender neutral accent to your kids' room.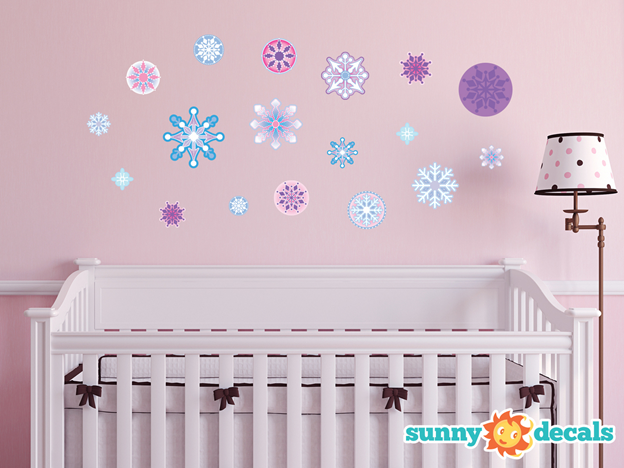 These Frozen-inspired snowflakes wall decals are one of the most exclusive, among our latest frozen inspired decal set. Applying a decal is the latest and easiest way to add a designer flair to a wall without the help of an artist or hanging a massive mural. Our snowflake wall decals set has 18 different designs of snowflakes from different sizes to decorate your wall wherever your kids' see often. These chilly decals are ideal to install on your kids' bedroom, living room, playroom or nursery to inspire them. At the same time they can be used to decorate Christmas parties or any other snow themed parties. Your kids will love to experience a snow fall in their own room throughout the year. These scattering snowflakes will create the atmosphere of a winter wonderland in your place in seconds while letting all the whole family enjoy it together. No matter whether it is hot summer or blooming spring, you will feel cold like winter throughout the entire year. Simply arrange them in your own unique style as you wish to achieve maximum elegance from this decal.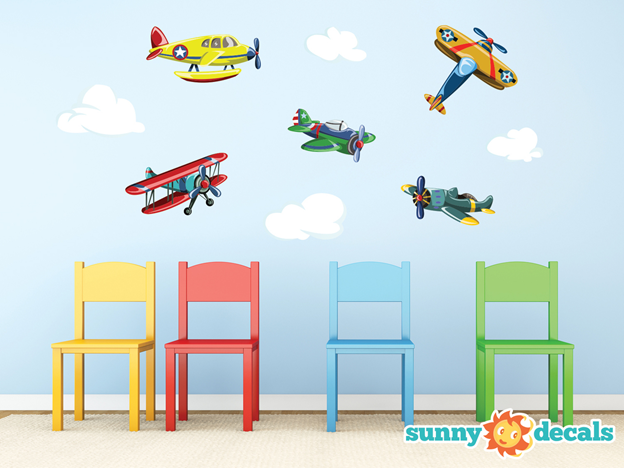 It's a bird; it's a plane; it's adorable airplane wall decals! Sunny Decals has wonderful, whimsical designs that let your imagination take flight, especially the one of the special little pilot in your life. These adorable, handcrafted decals will instantly turn your child's room into busy and colorful flight path to fun. It also comes with a set of five airplanes with clouds.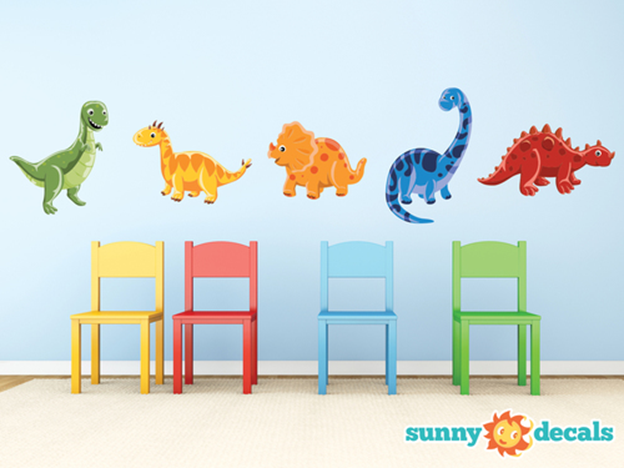 Dinosaur wall decals would make a great alternative to sport/alphabet themes for the parents who want to take a more unique approach to nursery decorating! These dinosaur wall decals are a perfect choice for any nursery! The colors are bright enough to stand out against neutral walls, yet soft enough that they won't overwhelm you or baby during those all to important 3am feedings.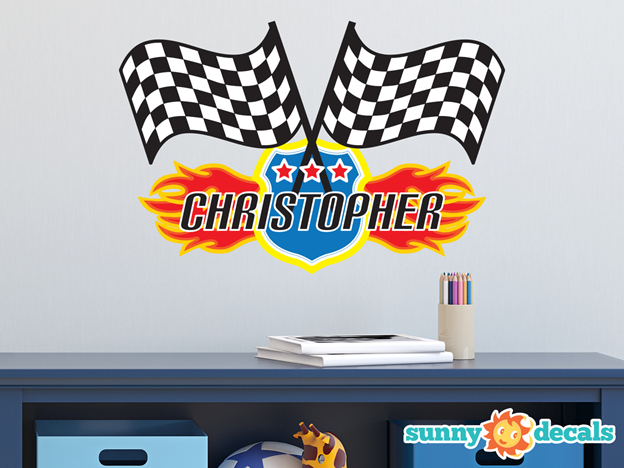 Race flag decals with custom names are manufactured especially for you, your child and/or anyone who follows the dream of becoming a racing stardom. Get your name printed between two racing flags and flames. A shield with three stars in the middle represents victory. This high quality decal gives a practical solution to this human passion. On the good side, walls will not be ruined anymore.
8.Owls- Set of 6 with Branch, Stars and Moon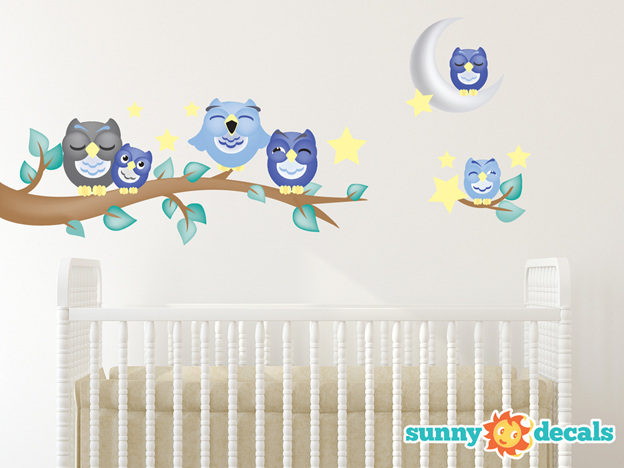 As children we learn thatowlsare wise, but who knew they could be thiscute? These adorable Owl Wall Decals come in a set of 6 owls with a branch, stars, and moon. The decals are made from a high quality fabric material that is reusable and repositionable. Available in 2 color options.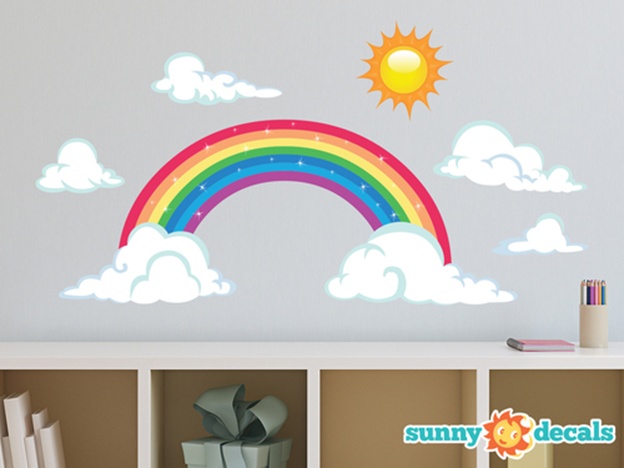 Our sparkling rainbow fabric wall decal is the ideal and perfect mural that gives any space a calm and bright appearance in minutes. The colorful sparkling rainbow surrounded by soft white clouds and the shining sun offers a welcoming beginning to each and every day for your little angel throughout the years. All you have to do is peel and stick it to the wall to give an outstanding and fantasy look. Now you can help your child seek the hidden gold pot at the end of the rainbow. This sparkling rainbow fabric wall decal comes with 6 clouds and shining sun which you can apply. Your little rainbow treasure hunter will find it extremely interesting to seek the pot full of gold with their friends while you save your hard earned money by investing in our rainbow decal.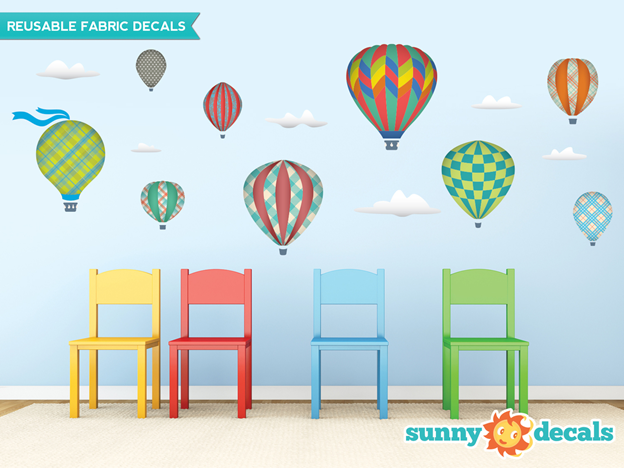 Up, up and away! Take to the skies every time you enter your child's bedroom with our whimsical hot air balloons fabric wall decals. These charming decals will conjure up magical memories of your own childhood as you and your family transforms a room into an old-fashioned aircraft thoroughfare. These colorful and fun designs will transform any room in your home. Have your little pilot help you decorate their room in the clouds and watch their imagination reach new heights as you work together.