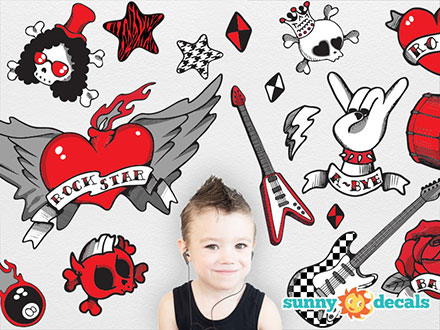 We've all dreamed of taking center stage during our own sold-out tour at some point in our lives. Holding the mike confidentially and hitting every high note while the arena goes wild for our new hit single – how awesome would that feel? While it's true we can't all be the next American Idol, we can still belt out a tune or two for our fantasy fans in a room worthy of a rock superstar. With our rock star wall decals, you can feel like a Top 40 chart-topper every time you enter the room.
Living the rock star life means adding a little flash to, well, everything. Now that you've got your walls covered, it's time to add some extra rocker flair to the rest of the room. Here are some accessories everyone in your family band can agree on.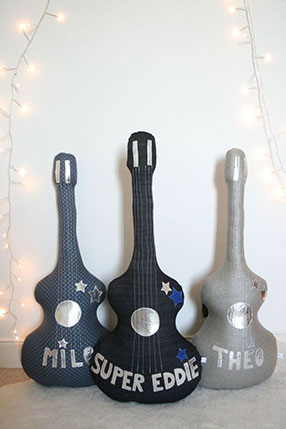 True, the front man often gets the spotlight, but who doesn't love an awesome guitarist? Make like Slash or Tommy Lee with this rockin' guitar pillow from French-based company Crème Anglaise. These personalized plush pillows are customized just for your little rocker with their names stitched on the bottom. They'll be so jazzed for their own 'instrument' that it might jumpstart a desire to learn a real one.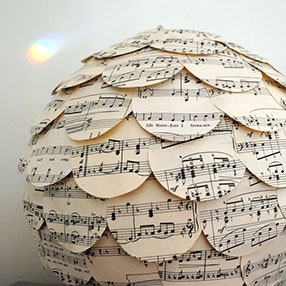 Who needs a spotlight when you can have this gorgeous mixed medley music paper lamp to light up your room? Made completely out of reclaimed vintage music paper, this unique light is from U.K-based company, NaturallyHeartfelt and will totally round out your room's rock star vibe.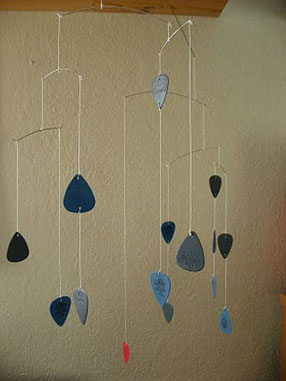 Forget counting sheep, your little one will definitely have rock star sweet dreams as they count guitar picks. This mobile idea from RooksPaperScissors.com is so cute and easy we had to share it with you. If you have a guitarist in your house, save their old guitar picks or go down to your local music store and buy 10-12 picks in various colors. Punch a small hole in the top of each and string them up to the main mobile apparatus.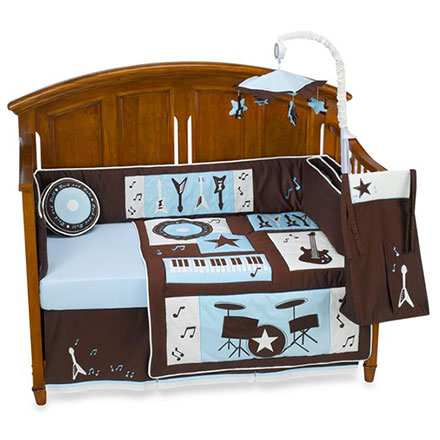 A future rock god needs sheets fit for a king or queen. This 4-piece crib bedding set from Lambs & Ivy is so cute, you'll wish they made them in big kid bed sizes. From toss pillows to rock 'n' roll hampers; this company has everything you need to complete your look.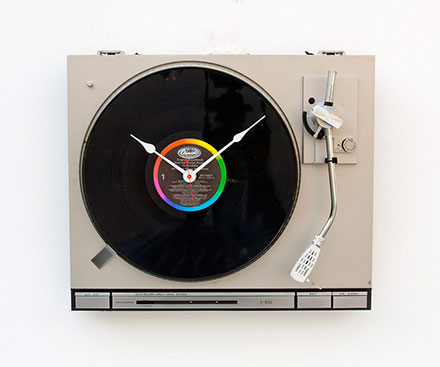 Every hipster remembers his or her first turntable. Grab this amazing turntable clock from the Etsy shop Pixel This and you'll always know when it's time to rock. This site makes cool stuff like this from recycled pieces. This unique clock is going for around $139 and is truly one-of-a-kind.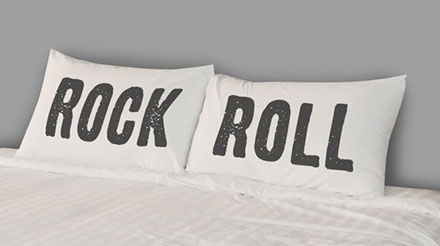 All rock stars need to rest their vocal cords at some point. Your little powerhouse will love this subtle, but totally on the mark, Rock n Roll Pillowcase Set from Etsy company, The Rise and Fall. Handcrafted in their Massachusetts studio, these pillows are stylish and fun.
What accessories do you think are a must have for your little rocker? We'd love to hear your ideas. For more rock star ideas, check out Sunny Decals Rockstar Nursery Pinterest page.