Things might get serious outside in the urban jungle, but it's all monkeying around in your own private jungle oasis. With lions, tigers, elephants and tons of other fun animals to choose from, decorating your safari-themed room is a walk in the park with the help of our jungle wall decals. Your own little wild thing will love helping you pick out the perfect pieces for their own personal zoo. It will quickly become everyone's favorite room in the house!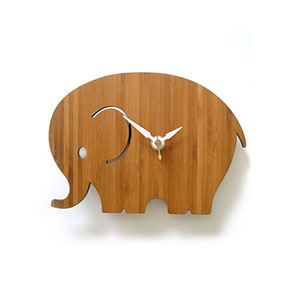 You're on jungle time now. This modern baby elephant wall clock is from the Decoylab Etsy Shop, and is too cute to pass up. They also make a variety of other handmade animal clocks and they don't make an annoying ticking sound so your baby will sleep uninterrupted. This piece goes for around $56 and requires one AA battery.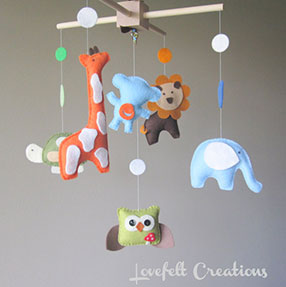 It's pretty obvious we love our mobiles over here at Sunny Decals especially these amazing designs from Lovefelt Creations. Every one of their mobiles is made to order so you're sure to get a truly one-of-a-kind design. You pick your colors and fabric combinations and they do the rest. This handmade design definitely gets our vote.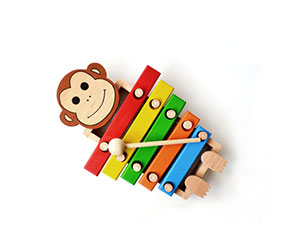 This adorable handcrafted monkey xylophone makes us smile every time. Retailing for around $30 on etsy shop, Wooden Play, your little monkey will love monkeying around with this instrument. Make beautiful music together (and have a perfect decoration when it's not in use) with this super fun toy.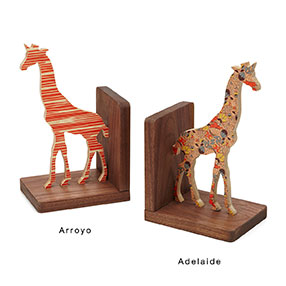 Not only are we totally obsessed with mobiles, but we're also super into EVERYTHING at Uncommongoods.com. When we got a glimpse of these puzzle piece inspired giraffe bookends, we had to pin them right away. These beautiful, bright bookends are only $60, handmade, and we're totally bananas about them. Sandwich your favorite picture books. Zoobooks, or National Geographics between these Baltic birch babies.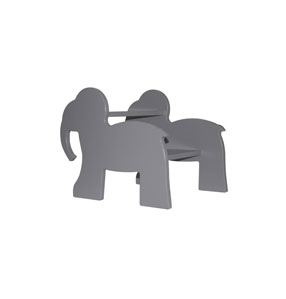 Your child will love having this elephant step stool on hand to reach for his or her stuffed jungle animals and more. We found this simplistic and fun design at Manny & Simon. Made from 100% post-industrial recycled wood residuals and painted with non-toxic and ultra low odor paint, these elephants might become the kings of your fantasy jungle.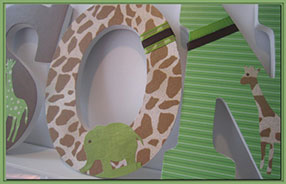 All jungle prince and princesses need their own personalized themed name. We found these on dmh1414's Etsy page and fell in love with them instantly. Priced by the letter, these giraffe, monkey, and elephant green and brown customized decorations add that personal touch to the room.
What jungle-inspired decorations do you go wild for? We'd love to hear your crafty ideas and share them on the blog. Check out our Sunny Decals Jungle Nusery Pinterest page for more jungle wall decal decoration ideas and let us know what you think!