Sweet Inspirations – Candy-Themed Creations for Your Dream Bedroom
We're super-sweet on our candy wall decals – mainly because it's so fun to decorate around them. You'll be craving candy every time you walk into your confection-inspired bedroom, playroom or nursery. But don't worry – you can't get a cavity from cuteness alone! Even your dentist would get behind these adorable decorations.
Here are some great accessories from some of our favorite online shops.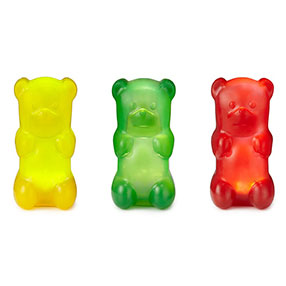 You don't need to brush your teeth after looking at these adorable Gummy Bear lights from Uncommongoods.com. With five fruity colors to choose from, you'll be able to taste the rainbow every time you turn on the lights. And, at $28, these sweet lights are a steal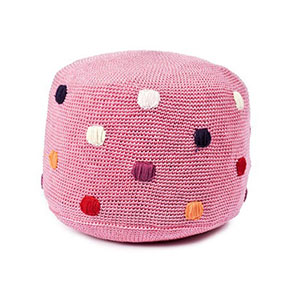 This Pink Dot cushion is perfect for any playroom. Created by Dutch brand Anne-Claire Petite, you'll be reaching for a box of Dots after purchasing this amazing pouf. Grab one (or two) for your room at LittleChoux.com.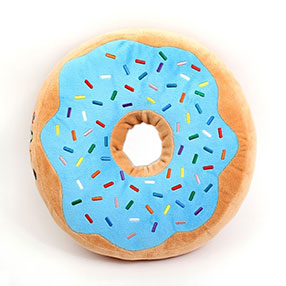 Fashion designer Ralph Lauren's daughter, Dylan, owns one of the hottest candy shops in the U.S. and she has some super-cute candy accessories to satisfy your sweet tooth. We especially love this $20 doughnut pillow, which would compliment any bed or couch.
The hardest party about having this bench in your room is resisting the urge to peel off the dots and eat them! You can find this truly unique candy creation at Jellio.com. Each of the rubber dots squish when you sit on them, and "pop right back up" according to the site, when you stand up. How cool is that?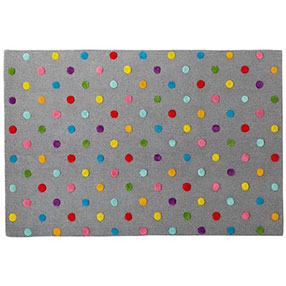 We're all about sticking to a theme from floor to ceiling (and of course wall to wall) and that's why we absolutely love this Candy Dot rug from The Land of Nod. Colorful, fun, and simply irresistible, this rug is the perfect addition to your room. In fact, these dots are so delectable even Willy Wonka would want one for his chocolate factory.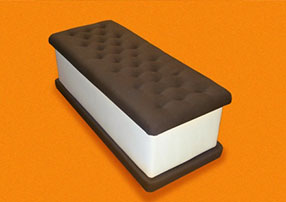 Sitting on the sofa just got a little squishier thanks to this AWESOME ice cream sandwich bench. Seriously, does it get any cuter that this? This creation is also from Jellio.com is made out of canvas and velvet and really brings the room together. For a whopping $950 you can have a sweet treat anytime you want!
Do you have any candy-inspired creations you'd like to share with us? We'd love to hear about them and possibly feature them on the blog.
Also, check out our Pinterest board for more candy wall decal inspired decoration ideas.