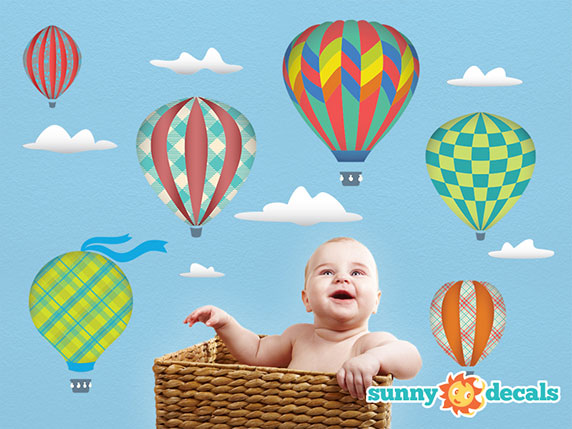 There's something extra magical about hot air balloons and the sense of nostalgia they invoke. Maybe it's because they tap into our sense of adventure or maybe it's their awe-inspiring size, but whenever the team at Sunny Decals sees one (in the sky or otherwise), it makes everyone instantly happy. That's why we're especially partial to Sunny Decals Hot Air Balloons Wall Decals and went about looking for fun, creative ways to add to this whimsical theme. We didn't have to search for long; it appears lots of people love hot air balloons, too, and the feelings of absolute freedom they emote. So what are you waiting for? Take to the skies with these adorable ideas and turn your child's nursery, playroom, or bedroom into a little slice of heaven.
Here are some products we found and loved so much we HAD to share them with you.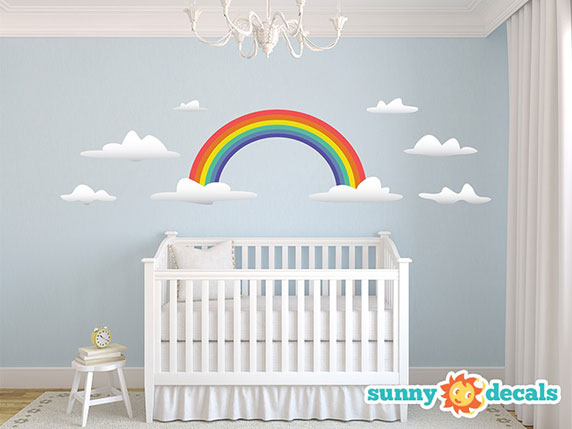 If you have the extra wall space our Rainbow Wall Decals make a perfect compliment to our Hot Air Balloons Wall Decals (Jumbo Size). With matching clouds and rainbow colors, it's a perfect way to fill up a room.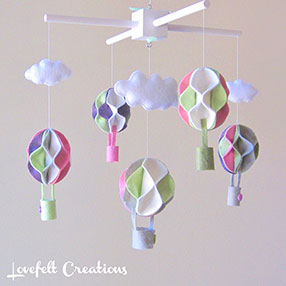 Once we started looking, we found a ton of adorable hot air mobiles that will look absolutely smashing in your baby's new nursery. We particularly fell in love with this one from Lovefelt Creations, an Etsy site that specializes in handmade baby mobiles. This pastel creation runs for $135 on their site, but they have dozens of amazing balloon mobiles to choose from in all price ranges. From paper mache to paper lantern inspirations, you will fall in love with their products as quickly as we did.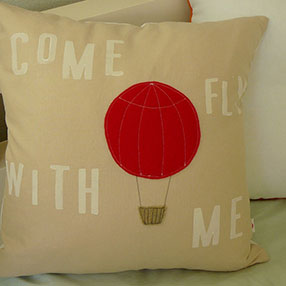 You'll be whistling Frank Sinatra's famous tune as you fluff these gorgeous additions to your themed-out room. We found this perfect pillow on Olive Handmade's Etsy page and were stoked to find there were more adorable creations where this pillow came from. The 'Come Fly With Me' cushion is only $28 and will round out the entire room.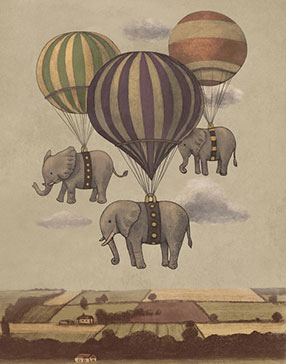 Experience the imaginative spirit of the industrial age with this beautiful poster from Society6. This enchanting print is the perfect addition to your room and with a variety of sizes (and prices) to choose from, you are sure to find the print that fits into your space just right.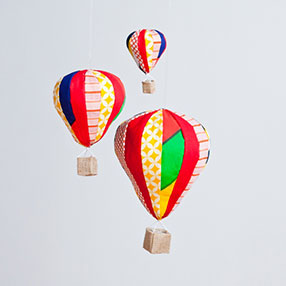 Like we mentioned earlier, hen it came to hot air balloon mobiles, it was hard to narrow it down to just one we liked. Check out our Pinterest board for even more mobile inspirations. This one, in particular, stood out because of its unique quilt-like textures. Created by Madeleine Sargent at Made by Mosey this trio of balloons was handmade and designed to hang in a cluster over your child's crib. How cute is that?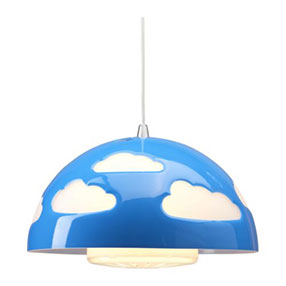 Get your head IN the clouds with this ceiling lamp we found at Ikea. It's only $29.99 and there's no extra assembly required (phew). You can buy it online on the Swedish mega-store's website.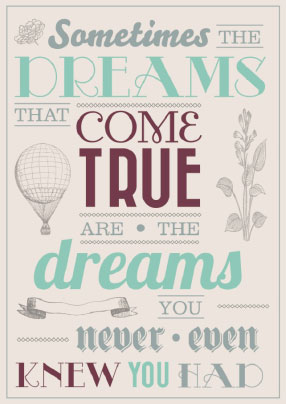 It's never too early to encourage your little one to follow his or her dreams and this beautiful poster encompasses every hope and dream we can wish for any child. Grab this print from Pretty Zoo's Etsy page. The creator is currently on vacation, but will still take orders if you email her directly.
Watch your imagination soar to new heights and have fun creating a truly one-of-a-kind space for your little angel.